Jump turns, skinny skis and the occasional penciled out 360. These are just a few of the staples that characterized freeriding in the late 80s and early 90s. Calgarian James Angrove was there to document the movement alongside Jon Long with their production company, RAP Films.
James Angroves: RAP Principal in Alaska
While Greg Stump was pumping out movies from Squaw Valley that showcased American skiers, RAP Films was delivering segments from the Canadian side of things. Skiers like Kirk Jensen, Andrew Shepard, Trevor Peterson, Eric Pehota and Marty Gautrey were doing things then that shaped the way that people are skiing today.
Not only that, RAP Films captured the talents of snowboarders of that time. Even as early as 1988, Angrove was helping guys like Ken Achenbach, Don Schwartz, Jon Boyer, Ox and the late Tommy Brunner show the world just how awesome standing sideways could be.
So why is this relevant now? Because Angrove has decided to digitally remaster his body of work and re-release his films in Fall 2012. And to add to the excitement, Angrove intends to film an HD TV series that takes some of the original cast back to the original locations.
"Basically we're gonna take some of the great stories from RAP films, and we're gonna recreate them, says Angrove. "I'm calling it a retro reality show," he adds with a laugh.
Meteorite 1st Descent: photo Markewitz"The other thing that we're gonna do that's a bit unique is that we're gonna bring five fans along to each location," adds Angrove. "They'd pay for a week of heli skiing and get a chance to film with the original cast. It gives them a chance to be a part of the whole process of the film that was created 20 years ago."
Angrove explains that "the way we pick [the fans] at this point in time is that they sign up and for the cost of $10,000, they get to come along. They're guaranteed about 90,000 vertical feet and they get a movie made about their trip there.
We'll be handing out Gopros at each location and making these little movies for each particular fan…Basically, the way the movie's structured is that there's a core structure of footage from back in the day, footage of what we get when we're there and footage from that (fan)."
Ah yes….the footage from back in the day. It's no exaggeration to call Angrove a pioneer in action sports culture. RAP films was one of the first crews to capture big mountain skiing in Alaska. Kirk Jensen, who's since gone on to become a senior ski patroller at Whitewater Ski Resort, was the first human to lay tracks down the iconic Meteorite outside of Valdez in 1991. And Angrove was there, dangling from the heli, making big mountain history from his side of the lens.
RAP films were also the first to lodge the mountains around Revelstoke into the consciousness of every Western Canadian powderhound and their newly purchased snowmobile. Andrew Shepard, one of RAP's most prolific athletes, lives in Revelstoke now with his wife and two kids and shreds the resort that those old movies helped sew the seed for.
Indeed, if Angrove's able to pull off this television show, it'll be amazing to reconnect with the old cast and see where their lives in the mountains have ended up.
"Obviously, these guys won't be skiing quite the way they used to, muses Angrove. "But, you know, guys like Eric Pehota in Whistler still ski 100 days a year."
Between directing and producing the show and remastering the old ski movies, Angrove's got his work cut out for him. But he's optimistic, citing that the pitch for the TV show had sparked some legitimate interest at a Trade Show overseas. And with a few fans already signed up, Angrove's most definitely on the verge of putting a new spin on his old distinct style and pumping out some media that'll be worth checking out.
Angrove says that there's still room for fans to sign up at all the locations. So if you're interested in being a part of the process, you can get a hold of him at either james@rapfilms.com or call him at 403-370-3300.
Check out Eric Hjorliefson's Top 20 RAP Film Segments of All Time http://biglines.com/articles/eric-hjorleifson-top-20-all-time-rap-film-segments
RAP Films Ski Library
http://www.rapfilms.com/rapfilms/videos.html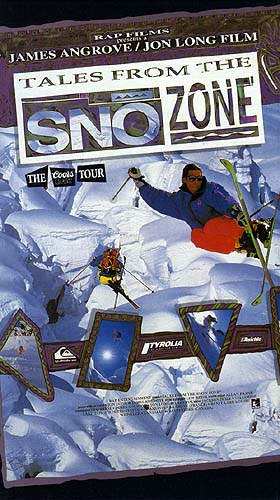 Skiers Dream-1988
Into the Snow Zone-1989
Return to the snow zone-1990
Tales to the Snow Zone-1991
Carving the White-1992
The White Room-1993
Cosmic Winter-1994
Snowdrifters-1995
Burning Winter-1996
Drifters-1997
Dreamer-1998
Snowboard Library

It's the Source-1993
Deuce-1994
Young and the Restless-1995